Tankard bearing the coat of arms of Ishak Carrilho (1699–1755) | The Israel Museum, Jerusalem
[ad_1]
Abroea
Plantage Abroea is gelegen aan de rechteroever van Surinamerivier tussen Jodensavanne en Thorarica. De plantage wordt ook wel Brua genoemd en raakte medio 18e eeuw buiten gebruik, mogelijk omdat de erven onderling gebrouilleerd oftewel bruya raakten.
Plantage Abroea werd in de Engelse tijd in gebruik genomen en er werd ter plaatse onder andere koffie en cacao geteeld. Begin 18e eeuw werd Abraham da Fonseca Meza de eigenaar. Hij was gehuwd met Abigail Messias en later Sara da Fonseca Meza. De familie had een woonhuis op Jodensavanne, en na het overlijden van Abraham in 1748 kwam de plantage in 1750 op naam van Isak Carrilho en Moses de
Aharon Henriquez Moron.
Van Ishak Carrilho (1699-1755) weten we dat hij in 1721 trouwde met Sara de Jacob Henriquez de Barrios. Zijn naam komen we tegen in de requesten aan de Sociëteit van Suriname van 1734 die hebben geleid tot de scheiding van de joodse Sefarden en Asjekien.
Henriquez Moron is een naam die we vanaf 1659 ook op Curacao aantreffen. Vanwege de terugkerende periodes van droogte, keerden ze al snel in de richting van de handel. Tegen deze achtergrond moet destijds Henriquez Moron zich in Suriname hebben gevestigd.
Een van de plantages op naam van een Henriques Moron is de plantage Klein Curaçao, die van ca 1735 tot 1765 in het bezit van Benjamin Henriques Moron. Er is in de loop der jaren ter plekke suiker, koffie en katoen geteeld en het behoort vanaf ca 1940 tot het terrein van Paranam.
Onderstaand object bevat het wapen van Ishak Carrilho, en is thans te vinden in het Israel museum te Jerusalem.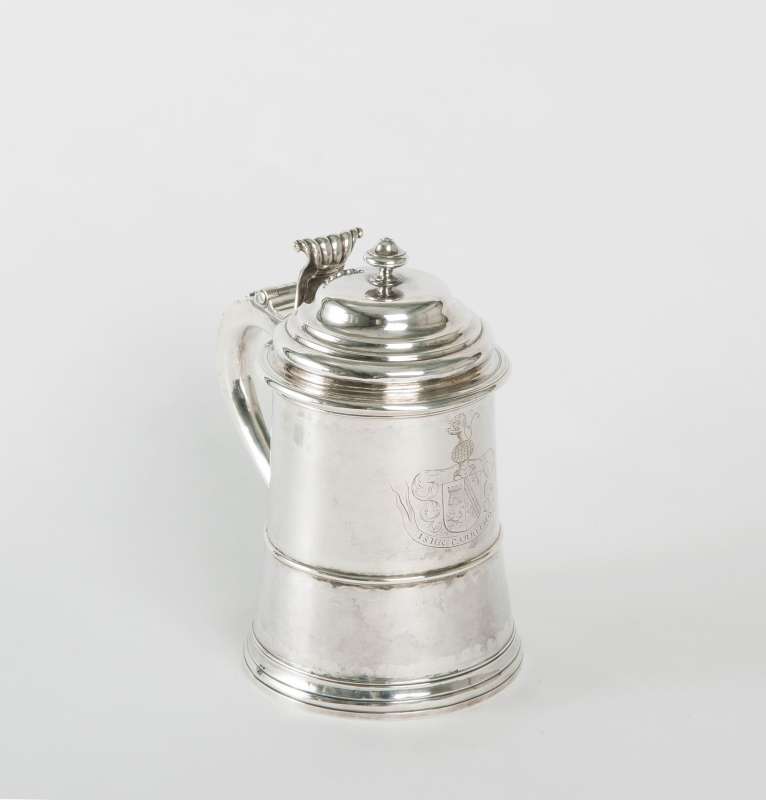 This personal object represents a tangible connection between one of the prominent personalities of the Portuguese Jewish community in Suriname, Ishak Carrilho, and the community's synagogue, Zedek veShalom. Carrilho, a member of the Ma'amad (board of governors) of the synagogue, was one of the leaders who signed the agreement authorizing the separation between the Portuguese and Ashkenazi congregations of Suriname in 1734.
The elegant tankard, manufactured by one of the most renowned silversmiths in the American colonies in the 18th century, attests to the active involvement of Jews in the trade between Suriname and North American mainland.
[ad_2]